OCIGO ethanol breathalyzer
A new generation of alcohol electronic breathalyzer.
Measure your alcohol level instantly with the OCIGO electronic breathalyzer
Reliability and precision
Compliant with the requirements of the NF EN 16280 standards

Law enforcement technology at your finger tips

International units

Reusable and rechargeable battery

Autonomous mode to instantly measure your alcohol level

Connected mode to access your history and make the right decisions

Prediction of return to below the legal limit and at zero

Alerts false positive results by detecting residual alcohol in the mouth

Option to send a report with photo attachment
A complete product for everyone
Adapts to 30 European Countries' Legislation
Wherever you are in Europe*, you can set the legal limit of the country you reside in or are visiting
5 languages
5 Languages to choose from French, English, German, Italian and Spanish
3 Driver Categories
Choose from novice, experienced or professional driver categories and the legal limit will automatically adjust to your selected category
14 Units
14 Units of Mesurement to suit your personal needs and preferences
False Positive Detection
OCIGO alerts false positive results by detecting residual alcohol in the mouth as opposed to the alcohol present in the respiratory tracks
Simplicity, reliability and accuracy
OCIGO will easily and quickly adapt to the applicable legislation enforced in whichever country you are in.

Take the guess work out of your decision making and let OCIGO tell you in just 5 seconds if you can safely take the wheel again.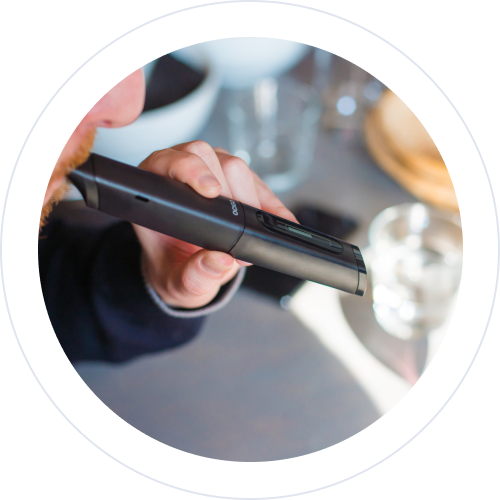 Alcohol Measurement Display
The OCIGO App is available and compatible with Android and iOS users.
Alcohol Measurement Display
Thanks to its infrared measuring sensor, OCIGO brings you precision and reliability whenever you need it.
OCIGO and its App help you make better decision while drinking
When drinking alcohol, there is more often than not, a difference between what you think your alcohol concentration is and how impaired you actually are
Help and advices
OCIGO takes the guess work out of it by giving you a reliable measure of your alcohol concentration and lets you know quickly if you are below or above the legal limit and when your will return to zero, therefore empowering you to make better decisions.
Stand-Alone

mode
to instanly measure your alcohol level
Immediately check your result on the built-in OLED screen.
Perform over 75 successive tests thanks to OCIGO's high-capacity rechargeable battery.
Connected

mode to access many features such as history & helps
The OCIGO mobile app provides a history of your alcohol consumption over time and advises you accordingly if your BAC exceeds the legal limit.
OCIGO is available now, get yours today!
Technical specifications
LIGHT, PRACTICAL & ECONOMICAL
| | | |
| --- | --- | --- |
| | Small size | 25 × 25 × 185 mm, 60g OCIGO's team has worked diligently to provide you with an elegant and compact design that enables you to keep your OCIGO in your glove compartment and still and still have plenty of room left in it! |
| | Economic and ecological | 860 mAh battery Supplied with 3 mouthpieces, ready to be used. |
| | Rechargeable via micro USB | The freedom to recharge your OCIGO anywhere, anytime. |
PRODUCT SPECIFICATIONS
| | |
| --- | --- |
| | Model : OCIGO EU Technology : Patented Infrared Spectrometry Compliance : CE & NF EN 16280 Measuring range : 0.00 to 1.00 mg/L in Breath (or 2.39 g/L in Blood) Calibration : Annual Power supply : Micro USB (Type B) Battery type : 860 mAh (Lithium battery) Dimensions : 25 × 25 × 185 mm Weight : 60g |
THE PERFECT EUROPEAN COMPANION
EUROPE

* Whether you are on a road trip crossing many borders along the way, out with friends in your hometown or on a business trip, OCIGO adapts to the legislations of different European countries

The application's configuration allows you to define local legal blood alcohol levels in 30 European countries by driver category: novice, standard and professional.

Multilingual device and App: French, English, German, Spanish and Italian

Available in: Germany, Italy, Spain, United Kingdoms (England, Scotland, Northern Ireland, Wales), Czech Republic, Luxembourg, Ireland, Estonia, Poland, Romania, Lithuania, Hungary, Switzerland, Slovakia, Austria, Norway, Slovenia, Sweden, Portugal, Belgium, Bulgaria, Denmark, Latvia, Netherlands, Cyprus, Croatia, Finland, Malta and Greece
OCIGO is available now, get yours today!